Unofficial Mortal Kombat HD Shutdown by Warner Bros.
Posted by Frazier on March 26th, 2014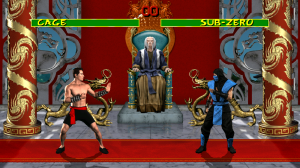 There was a time when NetherRealm Studios was working on an official remake of the classic Mortal Kombat video games, however with the release of 2011′s Mortal Kombat game that remake was put on the back burner never to be heard from again.  Mortal Kombat HD Arcade Kollection showed promise of bringing back the nostalgic feel of the original Mortal Kombat, however with updated graphics.  A source this to say:
"I wish I knew more of what happened to the game, but no one from the developer side even knew what actually happened. What most of us knew was one day, every [developer] got into a big meeting and WB basically decided to scale down the scope of the game because they thought it was risky to release it close to the release of the latest Mortal Kombat game. The game was only meant to be a filler before the [reboot] was out, so it's understandable why they didn't [want] a full game that would take the sales of the [MK2011]."
Even though the HD Arcade Kollection still hasn't seen the light of day NetherRealm and Warner Bros. Entertainment did eventually release the Arcade Kollection on PC and consoles as a digital download.
Fans of the original series however decided to pursue a HD kollection of their own, the Mortal Kombat HD Kommunity Edition.  The goal of the project was to use custom made 3D models, and the popular 2D
freeware MUGEN to create their own remake of the classic Mortal Kombat series.
Mortal Kombat Online reported today that the unofficial series has now been shutdown by the same company that never released the original HD Kollection.  MKOnline spoke to MKHD contributer Gabriel "bleed" Mendez on the subject:
"I received an e-mail from WB asking to get in contact with them, to talk about our fan project, Mortal Kombat HD Kommunity Edition. I did so right away and had a short conversation with someone, [whose] responsibility is to find and deal with copyright infringement. In general terms this person said that we can not release a working game, no matter how small, even if it's free, and we have to remove the website dedicated to its progress, because it crosses the line of what type of fan art is okay with them."
Whether or not MK will be releasing a HD version of their game is yet to be seen.  With the recent possibilities of a leaked release date, and casting rumor anything could be possible; whether it be a HD version of the klassics or a new 10th edition to the Mortal Kombat series.
-F
Related:
Mortal Kombat Online
Leaked Release Date for Mortal Kombat 10?
Sequel to 2011′s Mortal Kombat On The Way
An Injustice: Whatever Happened To the DC Universe?
You may also like..