Daryl Dixon Dies - Season 5 Premiere
Posted by The Nerdiot on June 27th, 2014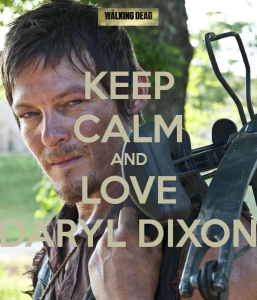 We've seen and heard it all from The Walking Dead, but could one of the most loved characters have his tables turned? Is Rick wrong about how badass they are and the most badass character dies?
With all that Daryl has been through, they're talking about killing him in the first episode?! I don't think so. The creator of The Walking Dead, Robert Kirkman is usually EXTREMELY careful about giving away any plot twists or really anything about the show, however this is big.
"Oh, and Daryl dies" was his response in an interview with a radio station.
I highly doubt that they'll kill Daryl off, especially in the first episode. But then again who knows. I'll tell you this though, Norman Reedus is posting about the 5th season, saying that it's going to be "badass". He also says that ".. it's great to be back."
So, do you really think that he would be so excited to be back on the set working on the 5th season, only to die in the first episode?! No.
This seems like it's most likely some stunt to boost views for the first episode of the season. People are going to go crazy wanting to know if Daryl dies, no one wants to watch the DVR version, they want it live to see the truth! Nice stunt Kirkman.. Well played.