Netflix Streaming July 2014 New Movies and Shows
Posted by The Nerdiot on June 28th, 2014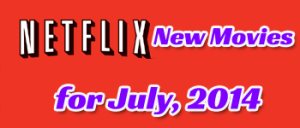 Hey everyone, be sure to check out Nerdiots on Facebook at http://www.facebook.com/Nerdiots Thanks!!
We've been given some good movies, and some awful movies. June didn't bring us much but hopefully this short little list will please someone out there.
My personal favorite picks for the month of July:
The Karate Kid trilogy from the 80′s will be premiering on Netflix. These movies were such feel good movies, I remember watching to learn karate just because of these movies, looking forward to seeing them again!
Honey, I Shrunk the Kids starts July 1st as well, the day when visual effects were really starting to kick up and become awesome.(lol) Looking forward to this classic.
Not really looking forward to this as much as I'm curious about how bad it's going to be. Sleeping Beauty from 2014 will be airing on July 12th. This instant classic stars Caroline Dorothy Grace Van Dien(what a name!) who is actually the directors daughter. Guess who that director is! That's right, the original Starship Trooper himself, Casper Van Dien. I can't say that she's the only Van Dien in this movie, in fact I think this movie is more of a family reunion than an actual film. Maya Van Dien and Celeste Van Dien are also in the film, and you guessed it, daughters of the director AGAIN!. Oh and i guess Capser Van Dien is also starring in this too. I am kind of excited because it really doesn't look bad. In fact here's the trailer, see for yourself:
Available on July 1st:
12 Angry Men (1957)
Bad Santa
Basic Instict
Boyz N the Hood
City of God
Dead Man Walking
Fever Pitch
Funny Face
Gandhi
Legends of the Fall
Patton
Philadelphia
Primal Fear
Star Trek VI: The Undiscovered Country
The Manchurian Candidate
The Parent Trap(Lindsay Lohan)
Under the Tuscan Sun
Winnie the Pooh: Springtime with Roo
Additionally later in the month we'll see:
Knights of Sidonia Season 1
Renoir
Homefront
Out of the Furnace
Hemlock Grove Season 2
The Battered Bastards of Baseball
Hitch
The Master
The Last Days
Pac-Man and the Ghostly Adventures Season 1
Baby Daddy Season 3
Melissa & Joey season 3
Hell on Wheels Season 3
Lost Girl Season 4
Christmas with the Kranks
Continuum Season 3
You may also like..