Movie Review - Contracted 2013 - Spoiler Alert
Posted by The Nerdiot on March 23rd, 2014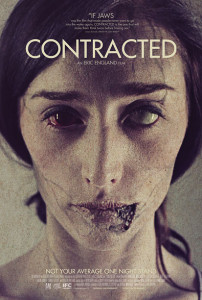 ***If you haven't seen Contracted, do not read any further!***
Contracted came out in November of 2013, an independent film by Eric England(Who has literally done nothing I've heard of). The movie has a kind of slow feel to it to start, and revolves around a young woman who lives with her mother, temporarily. She's at a party, and meets a guy and soon after they're having sex in his car. The imdb.com page for this movie says that she was date-raped, seemed pretty consensual to me. Anyways, this girl starts getting SEVERLY messed up, starting with bleeding out of her vagina like crazy! Toilets and bath tubs filled with blood, blood all over the floor, so much blood, actually it wasn't that much but there is a really gross blood filled toilet scene. I'm a huge horror film fan, and these independent films are always something else, but this one sits up there with Cabin Fever 2: Spring Break.


As you can see, Samantha starts out really pretty.. But that all changes really fast.




As the movie goes on, she progressively gets worse.. losing fingernails, teeth, and hair. I think for me the most disgusting part of the movie was her tearing off her own fingernails while at work, no less. BTW, she works preparing food at a restaurant. Her eyes look as though she has the worst case of pink eye EVER and she gets this nasty rotting lip thing on her bottom lip. I think it's pretty impressive that the movie poster image of her was actually right on with how she looked during the film, something you don't normally see. I've seen posters of creatures, expecting to see the same in the movie, and being left disappointed, but not with this one.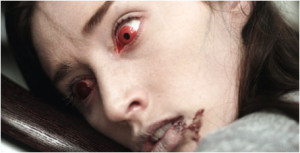 There's really not too much to the story, girl gets raped, starts feeling ill, goes to the doctor, starts falling apart and goes psycho. The acting was really good, the only actor during the movie I thought was lousy was the doctor. He seemed like a $50 stand-in with a couple lines. Samantha is a lesbian, and that adds to the story a bit with some jealousy from her friend who is in love with her, plus the added interest of a man who digs Samantha as well.
I know I say spoiler, but I'd rather not spoil this one, the ending was actually really good and worth watching the movie to see. Samantha really gets on the edge, and watching her fall over it is fantastic. And before I forget, one last details.. The worms. Don't watch this movie if blood makes you squeamish.
Just to add an update, and I'll keep this short, I'm retracting my statement about her being "raped" and that it "seemed consensual to me". I feel that those two statements were made before I watched the movie a second time and caught a few things I missed the first time through. I apologize for any offense.
5 Responses to "Movie Review - Contracted 2013 - Spoiler Alert"