Amazing Spiderman Japan is Too Cute to Ignore
Posted by Frazier on March 28th, 2014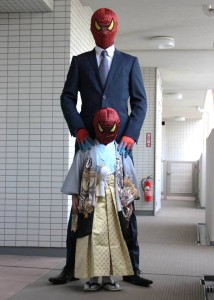 Most of the world is waiting for May 2nd to see The Amazing Spiderman, but those who live in Japan get to see it a whole week earlier.  For some reason Japanese people love Spiderman, in every incarnation.  Even the disastrous Spider-Man 3

was hugely successful.  People in Japan even seem to enjoy Spiderman more than Batman!  How is that possible you may ask?  It could be because Batman was released at the beginning of World War II while Spiderman first appeared in the 60s.  Or it could be because Spiderman has had it's own very successful series in Japan.
The original Spiderman series in Japan was a far stretch from the original source material. A young motorcycle driver, Takuya Yamashiro, sees a spaceship crash land on earth from the planet Spider.  He is given a costume and a bracelet that summons his costume and shoots web.  Of course in traditional Japanese story lines he is able to summon a giant robot named "Leopardon" very similar to Power Rangers.
Regardless of the reason Japan loves Spiderman.  So it's no surprise to see original marketing ideas coming from Japan.  From creative bento boxes, to Spidey and son photos, and even traveling interactive posters.  Japan's official Amazing Spiderman fan site has them all, and they are extremely cute.
Amazing Spiderman 2 comes to theaters May 2 2014, and April 25 2014 in Japan.  The Amazing Spiderman 2 is a sequel to the 2012 Spiderman reboot The Amazing Spider-Man

 starring Andrew Garfield.  You can see more of Japan Spiderman promotional material on their Facebook page AmazingSpidermanJP.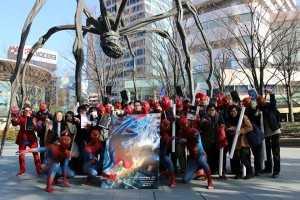 Related:
How Does Gwen Stacy Die
Google's Smart Contact Lenses
Worst "NERD" tattoos.. EVER
Photos courtesy of アメイジング・スパイダーマン