Mystery Science Theater 3000 MST3k returns.. sort of.
Posted by The Nerdiot on April 2nd, 2014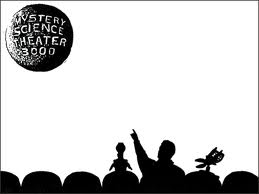 If you're anything like me, you were probably a HUGE fan of Mystery Science Theater 3000 when you were younger. Well it looks like the show is returning to television, sort of. The show is called RiffTrax, and as far as my knowledge goes it was originally a mini show where the cast makes fun of movies and shows, etc. I haven't paid attention to RiffTrax even though I loved MST3k, so this is where I sit now.
National Geographic is going to be showing a three part showing of RiffTrax tonight, where the 3 guys will be making fun of shows that are on National Geographic! How awesome is that. And guess who is in it!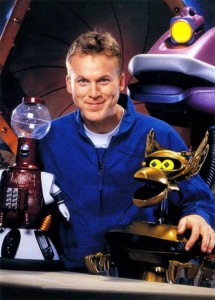 (Source)
Mike J Nelson, Kevin Murphy(Tom Servo), and Bill Corbett(Crow) will be taking the seat and making jokes about some of the best National Geographic shows, which I know we all do.
The show starts out simple, almost boring. But quickly brings back the memories of watching them sit in the theater making fun of people, animals and scenarios. This has quickly taken shape to be one funny show. If you haven't had a chance to see it, check it out! Hopefully you had your DVR set, if not, check to see if it's going to be on again. National Geographic Channel!