Miracle Man! - Its really good.
Posted by hexdsl on April 4th, 2014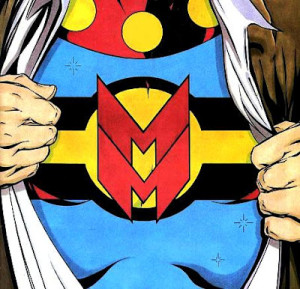 Miracle man is back in print. We are currently at issue four, but this is no new run. Miracle Man is getting re-printed in its entirety (about 25 issues) and its a brilliant thing to happen. Many newer comic readers may never have had the chance to read Miracle Man because its been out of print for a  long time due to a dispute about the ownership of the character. Something that I can't really sum up better than Wikipedia does but basically the legendary talent that is Neil Gaiman owned half the work and Todd McFarlane was arguing that he didn't so, the courts got involved and from 1997 onwards no one was able to get a copy of the trade paperback.
Miracle man is an anomaly on the comic book world as he started off life in 1954 as Marvel Man then due to some sticky copyright issues forced a change of name to Miracle man, Its been written by Alan Moore and Neil Gaiman as well as a host of others over the years and has changed tone and style drastically from the early incarnations. One thing about the character has remained constant though is that those stories were all brilliant.
The current printing of Miracle Man are being published by Marvel Comics. Each issue is something of an event containing the core portion of the re-printed issue right from the start of Alan Moores run, a portion of older stories, as relevant and reprints of old pictures, sketches, interviews or anything else that will enhance your enjoyment and best of all, its lovingly done and about the most 'respectful' example of a re-print I have ever come across.
The plan is for it to run to the end of the unfinished work and then mr Neil Gaiman will continue his run and finally finish the master-work. Interestingly all of the Alan Moore stuff is credited to 'the original artist' as for some reason he has had his name removed from the work, but, mr Moore does do strange things like that as he has an interesting point of view on things (lets not talk about 'Before Watchmen')
Now for the work its self:
Miracle man, the main story in the comic was written in 1982 and is just wonderful. Its gritty, its dark and it covers controversial topics that you would be hard pressed to find in even the most edgy books today. I don't actually want to tell you anything directly about the story because I think knowing about it before you go into it would detract from the experience. Reading the book gave me  a sense of discovery that haven't experienced many times in any medium so I would not want to rob you of it. It reads in a way that makes is hard to beleive its as old as is it, it stands up to any fresh title and then more often than not surpasses them.
The main character is almost entirely broken psychologically by the events that transpire, we are forced to ask questions about power, paternity, morality and god in this book and its only four issues in. Be warned Miracle Man is better than most things you will have read, prepare to buy all of it and at $5 an issue its not a cheap read, it is worth every penny of that though!
Miracle man is a work of genuine genius  and I'm am grateful that I have the chance to read it in this
2 Responses to "Miracle Man! - Its really good."