Batman V Superman: Dawn of Justice Teaser Trailer
Posted by Frazier on July 27th, 2014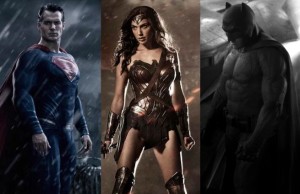 As with every year at Comic-Con there are always some surprises.  Of course you've already seen the teaser images and costumes but this year during the Warner Bros. presentation Zack Snyder decided to show up and give fans what could be the biggest tease we've seen so far.
He gives a quick introduction saying he was filming Dawn of Justice and hoped on a plane to show the footage he brought along.   The shot starts off with Batman showing up wearing a full suit of armor.  Very similar to the suit from Batman: The Dark Knight Returns

series, by Frank Miller.  His eyes are glowing white through the suit of armor.  He flips the switch to turn on the Batsignal and the camera pans up to show that Batman insignia reflecting off the clouds.  As soon as we see the insignia lighting strikes filling the scene with light, and who would be floating there in the night sky?  You guessed it; Superman, his eyes glowing red.  The camera pans down one more time to show Batman.
The scene looks beautiful of course, as do all of Snyder's movies, and has managed to respark a lot of the excitement fans have for the movie.
Batman v Superman: Dawn of Justice is scheduled to open worldwide May 6th, 2016.  It will take place immediately after the events in Man of Steel

, and will star Henry Cavil and Ben Affleck.
The trailer has yet to be released to the general public, so in the meantime enjoy this Vine of Superman, Batman, and Wonderwoman from the panel.
-F
You may also like..